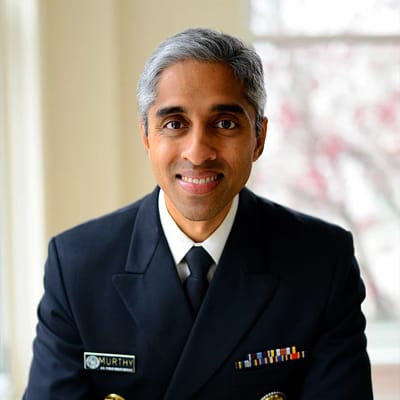 Dr. Vivek H. Murthy served as the 19th Surgeon General of the United States from December 15, 2014 to April 21, 2017.
In addition to his role as America's Doctor, as the Vice Admiral of the U.S. Public Health Service Commissioned Corps, Dr. Murthy commanded a uniformed service of 6,600 public health officers, serving the most underserved and vulnerable populations in over 800 locations domestically and abroad. He worked with thousands of Commissioned Corps officers to strengthen the Corps and protect the nation from Ebola and Zika and to respond to the Flint water crisis, major hurricanes, and frequent health care shortages in rural communities.
Dr. Murthy's commitment to medicine and health began early in life. The son of immigrants from India, he discovered the art of healing watching his parents – Hallegere and Myetriae Murthy – treat patients like family in his father's medical clinic in Miami, Florida.
Dr. Murthy received his bachelor's degree from Harvard and his M.D. and M.B.A. degrees from Yale. He completed his internal medicine residency at Brigham and Women's Hospital in Boston and later joined Harvard Medical School as faculty in internal medicine.
Dr. Murthy resides in Washington, D.C. with his wife, Dr. Alice Chen, and their two young children.