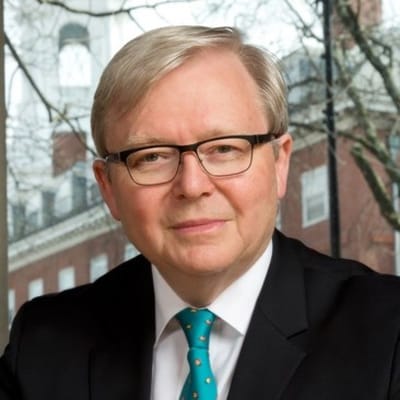 The Honorable Kevin Rudd served as Australia's 26th Prime Minister (2007-2010, 2013) and as Foreign Minister (2010-2012). As Prime Minister, he led Australia's response during the Global Financial Crisis, reviewed by the IMF as the most effective stimulus strategy of all member states. Australia was the only major developed economy not to go into recession. Mr. Rudd co‑founded the G20 to drive the global response to the crisis, which in 2009 helped prevent the crisis from spiraling into depression.
Mr. Rudd joined the Asia Society Policy Institute (ASPI) in New York as its inaugural President in January 2015. ASPI is a "think-do tank" dedicated to using second-track diplomacy to assist governments and businesses in resolving policy challenges within Asia, and between Asia and the West.
Mr. Rudd is Chair of the Board of the International Peace Institute in New York, a United Nations-related think tank dedicated to peace and security issues, focusing on the Middle East.
Mr. Rudd was appointed to the IMF Managing Director's External Advisory Group in 2020. He is a Distinguished Fellow at Chatham House in London, a Distinguished Statesman with the Center for Strategic and International Studies in Washington DC, a Distinguished Fellow at the Paulson Institute in Chicago, and a member of the Comprehensive Nuclear Test-Ban Treaty Organization's Group of Eminent Persons.