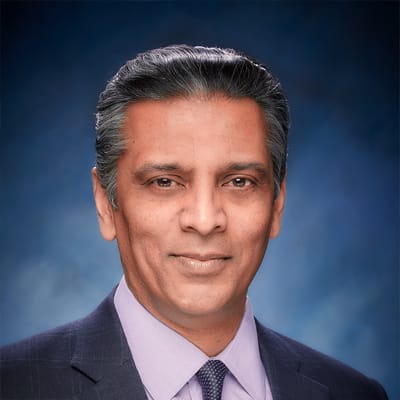 Raj Subramaniam is president and chief operating officer and a director of FedEx Corporation. As president and chief operating officer of FedEx Corporation, Subramaniam oversees the FedEx portfolio of operating companies and the more than 490,000 team members of FedEx Express, FedEx Ground, FedEx Freight, FedEx Services, FedEx Logistics and FedEx Office. He is also co-president and co-CEO of FedEx Services.
Subramaniam is a member of the five-person Executive Committee, which plans and executes the corporation's strategic business activities. He is also a member of the FedEx Strategic Management Committee, a select group of the company's top leadership, which sets the strategic direction for the enterprise.
Prior to assuming his role as president and chief operating officer of FedEx Corporation, Subramaniam was president and chief executive officer of FedEx Express, the world's largest express transportation company. In this position, Subramaniam oversaw the FedEx Express global network, which services more than 220 countries and territories and provides time-sensitive, air-ground express service through more than 650 airports worldwide.
Subramaniam served as executive vice president and chief marketing and communications officer for FedEx Corporation from 2013 to 2018, overseeing all aspects of the company's global marketing and communications, including advertising, brand and reputation, product and business development, e-commerce, retail marketing and digital access. His portfolio also included oversight of global customer experience, revenue management, corporate strategy and innovation.
Subramaniam has a rich history at FedEx. After joining the marketing team in Memphis in 1991, he moved to Hong Kong to lead marketing activities for the Asia-Pacific region. In 2003, he was promoted to president of FedEx Express in Canada before moving back to the U.S. as senior vice president of marketing and communications for FedEx Services in 2006.
Subramaniam champions the idea that FedEx connects people and possibilities around the world, helping businesses to flourish, economies to prosper, and standards of living to improve.
Born in Trivandrum, India, Subramaniam received an undergraduate degree in Chemical Engineering from the Indian Institute of Technology (IIT). He earned two post-graduate degrees: a Master of Science in Chemical Engineering from Syracuse University and an MBA from the University of Texas at Austin. In addition to serving on the FedEx Corporation board of directors, Subramaniam is a member of the board of directors of First Horizon National Corporation, the U.S. Chamber of Commerce's China Center Advisory Board, FIRST, U.S.-India Strategic Partnership Forum and the U.S.-China Business Council. He holds membership in a number of business leadership organizations, including World 50.