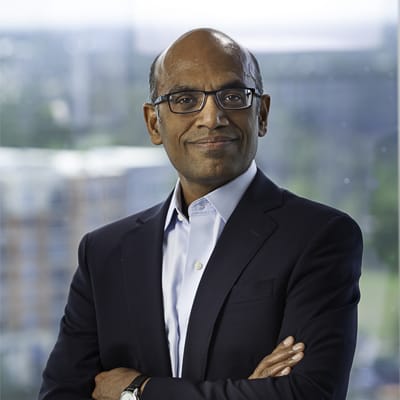 Soma Somasundaram serves as ChampionX President and Chief Executive Officer, and is a member of its Board of Directors. He previously served in a similar capacity with Apergy Corporation, which merged with the upstream chemicals business Nalco/Champion in June 2020.  Prior to his leadership of Apergy, he served as Vice President of Dover Corporation and as President and Chief Executive Officer of Dover Energy.
Previously, Somasundaram served as Executive Vice President (from November 2011 to August 2013) of Dover Energy, Executive Vice President (from January 2010 to November 2011) of Dover Fluid Management, President (from January 2008 to December 2009) of Dover's Fluid Solutions Platform, President (from June 2006 to December 2007) of Dover's Gas Equipment Group, and President (from March 2004 to May 2006) of Dover's RPA Process Technologies. Prior to joining Dover, Somasundaram served in various global leadership roles at GL&V Inc. and Baker Hughes Inc.
Somasundaram received a B.S. in Mechanical Engineering from Anna University and a M.S. in Industrial Engineering from University of Oklahoma.  He currently serves as a Board Member and president at the World Affairs Council of Greater Houston, an organization designed to generate discussion and deepen knowledge of global issues.
About ChampionX:
On June 3, 2020 Apergy and ChampionX, formerly known as Nalco Champion upstream, merged to create the "new" ChampionX, a global leader in chemistry programs and services, drilling technology, artificial lift solutions, and automation technologies for the upstream and midstream oil and gas industry.  With more than a century of expertise and 7,000 global team members serving in more than 50 countries, ChampionX has a unified purpose to improve the lives of our customers, employees, shareholders, and the communities where we live and work.  Learn more at championx.com.