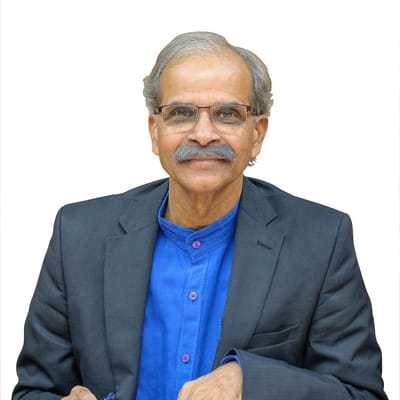 Prof. Tewari grew up as a campus boy and went on to become an alumnus of the Institute. He completed B.Tech. (Hons.) in Agricultural Engineering from IIT Kharagpur in 1979, M.Tech. in Farm Machinery and Power Engineering in 1981 and Ph.D. in Engineering in 1985. Prof. Tewari joined the Institute as a faculty member in 1990 where he rose to the rank of Professor in Farm Machinery and Power Engineering in the Dept. of Agricultural and Food Engineering. He was associated with JEE from 2003-2006 and was the All India Organizing Committee Chairman of JEE from 2005-2006. Many of his pioneering initiatives such as the design of question papers are being followed even now.
Prof. Tewari's core research areas include Tractor system design, Ergonomics and industrial safety, Design of agricultural machines, Precision agriculture and Machinery system management. Among his key research projects, the Centre of Excellence for Digital Farming Solutions for Enhancing Productivity by Robots, Drones and AGVs National Agricultural Higher Education Project (NAHEP) deserves special mention. In addition, he is leading several projects by Central Institute of Agricultural Engineering, Indian Council of Agricultural Research, Ministry of Agriculture and Farming Welfare, Department of Agriculture, Cooperation and Farmers Welfare, Govt. of India.
Prof. Tewari has also performed Collaborative Research with several Tractor Industries, including Tractor and Farm Equipment (TAFE) Ltd., Chennai, M&M Ltd., Mumbai, John Deer Pvt. Ltd., Pune, Escorts and Eicher Tractors, Faridabad. He has also worked with Tata Steel, Jamshedpur, in the area of Ergonomics and Safety Engineering for systems safety in different manufacturing shops including different Mine projects during 2003 to 2013. His work in the field of Tea Engineering with Tea Companies like Duncan's Agro&Williams and Magor Pvt. Ltd. in the design and development of Tea Machinery is also commendable.
Prof. Tewari has been conferred with several awards accolades by Indian Society of Agricultural Engineers, Indian Society for Technical Education, National Research Development Corporation. To name a few ISAE Gold Medal, Jawaharlal Nehru Award for his contributions in the field of agricultural mechanization.